Keiichiro Tokugawa (徳川 慶一郎, Tokugawa Kei'ichirō?) is the main protagonist of the Dai-Shogun - Great Revolution television. Women cannot touch him as he is cursed, because of this he vows to become the greatest man, because he is a virgin [1]. He pilots the Onigami Susanoo.
Personality & Character
Edit
He grew up in a bathhouse in Nagasaki. Aim to Tenkaichi is bored but hot energy, every day Akekureru day-to-day fight. If you won the Nagasaki heart was not met. In fact for some reason, in the constitution to touch the woman hives comes out, it is still "virgin" therefore. But, the person still do not know that the virgin has a great significance [2].
Keiichiro grew up working in the Cherry Blossom Baths in Nagasaki, which was owned by his nan, Otomi.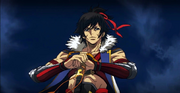 Keiichiro Tokugawa
Edit
[1]==Personal Informaion==
Keiichiro Tokugawa
Aniki (Hyakusuke) Keiichiro-sama (Kiriko) Ken-chan (Chiharu) Keiichiro-dono (Hyougo)
Characteristics
Edit
Male
17==Personal Status==
Keiko (Mother)
Otomi (Adoptive Grandmother)
Love Interest
Edit
Occupation
Edit
Pilot Bathhouse Worker
Appearances
Edit
Episode 1: Succession Strife, Keiichiro Appears!==Voice Actor==
Tetsuya Kakihara==Keiichiro Tokugawa== [2]==Personal Informaion==
Keiichiro Tokugawa
Aniki (Hyakusuke) Keiichiro-sama (Kiriko) Ken-chan (Chiharu) Keiichiro-dono (Hyougo)
Characteristics
Edit
Male
17==Personal Status==
Keiko (Mother)
Otomi (Adoptive Grandmother)
Love Interest
Edit
Occupation
Edit
Pilot Bathhouse Worker
Appearances
Edit
Episode 1: Succession Strife, Keiichiro Appears!==Voice Actor==
Tetsuya Kakihara==Keiichiro Tokugawa== [3]==Personal Informaion==
Keiichiro Tokugawa
Aniki (Hyakusuke) Keiichiro-sama (Kiriko) Ken-chan (Chiharu) Keiichiro-dono (Hyougo)
Characteristics
Edit
Male
17
Personal Status
Edit
Keiko (Mother)
Otomi (Adoptive Grandmother)
Love Interest
Edit
Occupation
Edit
Pilot Bathhouse Worker
Appearances
Edit
Episode 1: Succession Strife, Keiichiro Appears!==Voice Actor==
Tetsuya Kakihara
References
Edit